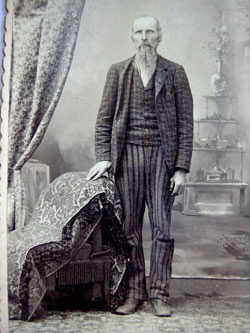 Thomas Benjamin Olin was born March 15, 1844 in Chemung, New York and died June 28, 1917 in Grand Rapids, Itasca, Minnesota. Death certificate and obituary. He married Mary Louisa Cunningham on August 11, 1867 in Greenville, Kent, Michigan.[1] She was born August 18, 1849 in Ceresco, Michigan.[2] After Thomas's death she married Bernard (Barney) Lemke March 9, 1918 in Hibbing, St. Louis, Minnesota. She died February 26, 1924 in Itasca, Minnesota.[3] Interestingly, on Mary's death certificate she is listed as Mrs. Barney Lemke with no further information as to her identity. Had it not been for the cleverness of the clerk at Itasca County, I might never have found a death certificate for her. She is, however, buried near her husband, Thomas, in the Grand Rapids Cemetery and the headstone reads Mary Olin.
Tom Olin's family moved to Mecosta, Michigan when he was 15 years old around 1860-61 and apparently a great deal of his extended family did too. His brother, Giles Olin, was married to Lydia Moulter on February 2, 1856. She was born in Chemung and I suppose they were married there which would substantiate Willard's account of his father leaving New York around 1860.[4] Family oral history says that Thomas B. Olin played the fife and drum at the age of 16 in the 10th New York Division or the Pennsylvania Division of the Union Army during the Civil War.[5] I have been unsuccessful finding a record of his enlistment. It may be that he used a different name because of his age?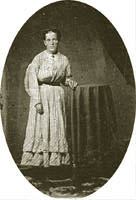 Thomas left New York after the war and went to join his family in Michigan. He was a farmer there when he met and married Mary Cunningham in Greenville, Michigan. Interestingly, the marriage certificate shows his name as Benjamin Olin. He lived most of his life in Grand Rapids, Itasca, Minnesota. His obituary read: "Thomas suffered intensely during his long illness but patiently, manifesting a spirit of Christian fortitude. Calmly he awaited the end, talking with his pastor with the quiet assurance of those who have a sincere faith in the goodness of their God. He went to his reward calmly and peacefully at the age of 73."
Tom and Mary lived in Austin Township, Mecosta, Michigan at least until 1873 as that is the date their son Florance was born. (On Willard, Emily and Florance's birth certificate it shows both Tom and Mary's birth place as New York.) There were many diseases that ravaged the young during those times and I'm sure that Florance was the victim of one of these diseases. His sister, Emily contracted polio and survived to old age. However, it would have been very hard to stay where so much heartache lingered. It is said in Mecosta County, Michigan that the Austin cemetery (Olin cemetery) contains somewhere between 20-40 children's graves. Hardly an Olin family or their neighbor was left untouched by death.
According to Willard's letter, Tom and Mary came in to the Fridley Station (about 15 miles North of Minneapolis, Minnesota) on the Northern Railroad in November 1879[6]. They stayed in Fridley[7] about three weeks then moved to Dayton, Hennepin, Minnesota where Willard says he started school. His sister Sadie was born there in 1880. Apparently the soil was too sandy in Fridley and unsuitable for farming. I have just recently had access to the 1880 United States Census and it shows that Tom and Mary were in Wright County, Minnesota in 1880 also. It shows Mary's birthplace as Vermont there. This was an interesting clue. I suppose Mary could have been born in Vermont and come to Michigan with her parents.
Willard stated that it was Mary who homesteaded in Morrison County, Minnesota in 1881 and they stayed for ten years. The description reads: Southeast 1/4 of Section 2 Parker Township, Morrison County. On researching the plat book for Morrison County during that time period I have found that a T. Olin and W. Olin owned a 1/4 section each next to each other and that Willard was correct in the description. It would seem then that Tom Olin actually homesteaded rather than Mary. However, the plat drawing was in the year 1892, shortly before their departure for Staples. The quarter section is divided into three parts. Half of the section (80 acres) belonging to T. Olin, one quarter each of the second half (40 acres each) divided between W. Olin and J.H. Hamilton. My guess is that Mary may very well have homestead originally and possibly transferred the land to her husband. Tom then sold 1/4 to another party (Hamilton) and had the other 1/4 transferred to his son, Willard who by 1892 was 24 years old. In the John Olin Family History, mentioned many times in the beginning of this history, it shows Thomas Benjamin Olin, son of Henry Olin and Lydia Corrie as living in Huff, Minnesota. I visited the Morrison County Historical Society and they could not understand where this "Huff" township came from. However, it seems that a Mr. Huff had bought a substantial piece of property in Parker Township and became the postmaster, hence Huff Post Office. For those of you who are familiar with Minnesota and/or the Little Falls area, the section that was homesteaded was in Parker Township and what is now Randall. Although Randall was considerably closer than the Huff post office, it was in a different township. Little Falls, though considerably larger, was entirely too distant to visit on any regular basis, however, it was the nearest large town and so was often referred to for locality familiarity when giving a description of their whereabouts.
In any case, it was here that Henry Olin and Frank Olin were born, 1883 and 1885 respectively.[8] In 1892 the family moved to Staples where Tom ran a boarding house. Sadie attended her first school here. Willard met his future wife, Ella, here also. Apparently, the Kingston and Sandretzky families were in this area also. Tom and Mary moved their family to Grand Rapids in 1896. This date is given to us from Willard's recollections, however, Thomas Olin and family is listed as coming to Grand Rapids in 1894. According to his grandson Otto Olin, Thomas Olin was an easy-going man that he made the trip from Aitkin to Grand Rapids via ox cart and that he was suffering from a broken leg at the time. He built and owned an hotel (Floto Hotel) and amusement park on Swan Lake in Pengilley which is also in Itasca Cty, Minnesota. It has been said that the ferris wheel from this amusement park was handed down for a couple of generations. During the winter he would peddle toboggan loads of fish to Coleraine. While in Grand Rapids he built several buildings. Later when Bovey was being established and built, he moved there, living in a tent while his house was being built. One day while going around the point of Pokegama Lake in Grand Rapids he broke his leg and had to be carried. Later, on in life he was run over by a team of horses and taken to Mayo but refused surgery. It is said that he spent the last years of his life in a rocking chair. Tom and Mary had the following children:
---
Footnotes:
[1] In Thomas Olin's obituary it says that they were married August 5, 1867, however, Susan Potter's letter to Mary states that it is 1866 and this was in the family bible. I found a marriage certificate for them and Thomas is listed as Benjamin, and it was August 11, 1867. [2] According to her death certificate on file at Itasca County, Minnesota [3] Barney died May 1, 1928 and is buried near Mary also. [4] From "Mecosta County History, a biographical/genealogical history". This history lists Giles's children which correspond with Willard's letter and the John Olin Family History. [5] The fife is in the possession of one of his descendants, Thomas Sandretzky, and the drum belongs to Thomas F. Olin, Sr. Family [6] The 1870 Michigan census recorded Thomas B. Olin. [7] Before that time, the area which is now Fridley had been the smallest county in Minnesota until it was incorporated as city and was annexed to Anoka County. Interestingly, Fridley is now a suburb of Minneapolis and has a huge population. That land would be worth a fortune now. [8] Morrison County birth records show Olin, male 4-16-1883 at Parker Township, parents: Thomas, farmer b: NY and Mary C. Olin b: Michigan and Olin, Franklin H. 4-16-1885 at Parker Township, parents: T.F. farmer, b: NY and M.L. Olin b: Michigan. This must be how Frank Olin got the idea that Thomas B. was Thomas F.
Sources:
"Minnesota, Deaths and Burials, 1835-1990," index, FamilySearch (https://familysearch.org/pal:/MM9.1.1/FDM6-1JS : accessed 16 March 2015), Thomas Olin in entry for Henry Jacob Oli…, 26 Feb 1903; citing Grand Rapids, Itasca, Minnesota, reference 1157; FHL microfilm 2,117,539. (Henry Olin's death)
"Michigan, Births and Christenings, 1775-1995," index, FamilySearch (https://familysearch.org/pal:/MM9.1.1/F4BD-25L : accessed 16 March 2015), Thomas Olin in entry for Otus Sowelan Olin, 02 Sep 1876; citing Austin, Mecosta, Michigan, reference ; FHL microfilm 2,320,449. (Otus Olin's birth record)
"Minnesota State Census, 1885," database with images, FamilySearch (https://familysearch.org/ark:/61903/1:1:MQFF-B9P : accessed 7 October 2015), Willard Olin in household of Thomas Olin, Parker, Morrison, Minnesota; citing p. 1, volume Morrison, State Library and Records Service, St.Paul; FHL microfilm 565,746.
"United States Census, 1880," database with images, FamilySearch (https://familysearch.org/ark:/61903/1:1:MZ91-2RM : accessed 7 October 2015), Willard Olan in household of Thomas Olan, Otsego, Wright, Minnesota, United States; citing enumeration district 65, sheet 371C, NARA microfilm publication T9 (Washington D.C.: National Archives and Records Administration, n.d.), roll 0638; FHL microfilm 1,254,638.
Last Updated on January 18, 2022 by rootie