This page of Olin Family History was gleaned from many sources. If you are a descendant, please consider joining the Olin Family Society. In addition to genealogy the website provides many links of interest including reunions, bibliographies, resources and by-laws.
Join us on MeWe and please provide your lineage as far back as you can.
The Earliest Known Olin Ancestor
There is an abundance of family oral/written history claiming that the original progenitor of the family was a boy named Llewellyn who was born about 1664 in Wales. Stories vary but all pretty much agree that he came over in 1678 when 14 years old. There are several different accounts that I have listed below so you can see what has been researched and maybe come to your own conclusions. The most common story is that he was pressed onboard an English ship (Man of War) as either a cabin boy or powder monkey. Having been forced to serve on this vessel he took the first opportunity to jump ship in Boston Harbor in 1678. It is said that he lived among the Narragansett Indians for some time and during this period his name changed to John Olin. Family legend claims a connection to Llewellyn the Great. Our cousin, Thomas Olin, who is now deceased had traveled to Wales and visited the coffin of the prince and noted that a brass plaque positioned over the tomb of Llewellyn the Great reads:
"This is the coffin of Leolinus Magnus, Prince of Wales, who was buried at the Abbey of Conwy, which upon the dissolution was removed thence."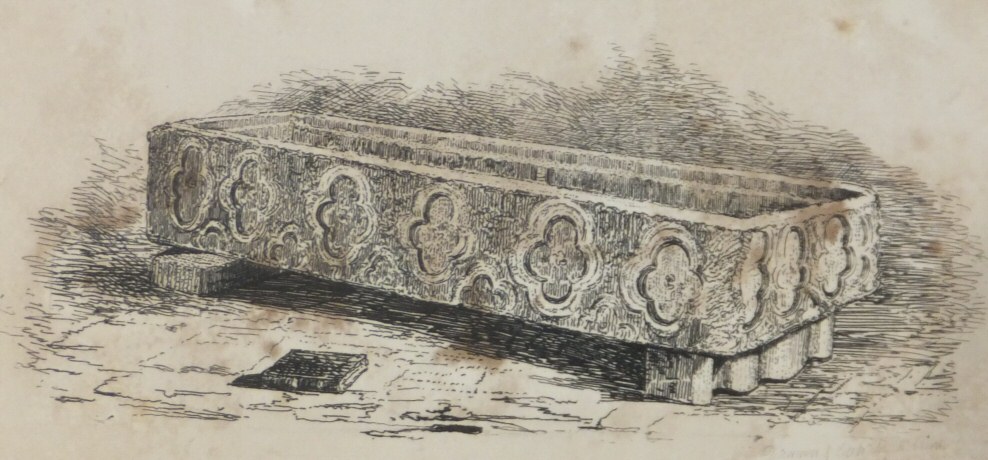 He noted the "olin" in Leolinus and thought there must be a connection. But since Llewellyn was born in 1173 it would be almost impossible to trace any lineage to him, particularly if we were the descendants of an illegitimate child. But it's fun to wonder about it.
John Olin moved on to Rhode Island (East and West Greenwich) and married Susannah Spencer. It has been said that the Spencers and John Olin knew each other in England. The Spencer name is originally French (De Spencer). It is believed that the Olin name was also French. (Olinville, Rouen, France). The Olin name may originally have been a Swedish name but since names are changed and spelled in different ways–who knows. But it was noted that John Olin resembled a Swede in height and coloring. My opinion is that it is likely that John (Jean) Olin relocated to England then was pressed on board a ship and upon reaching America and his later descendants rewrote his history. Also, as I'm learning from other family lines–the timeline and generations can be spread out much further. If you read Stephen Olin's account on the origins page, you'll see why I am leaning this way. I have attempted to organize the many sources and discussions regarding John Olin's origins, please check it out. The Olin Family Society has created an "Origins Project" recently and is looking for family researchers to work together and compare notes and ideas hoping to find John's origins. Please consider joining the OFS as it offers many resources and aids as well as opportunities to collaborate with your cousins.

John and Susannah lived peacefully in Rhode Island and had four known children: Joseph, John II, Henry and Eleanor. See more on the John Olin family>>>
A Waukesha editor recalls the underground railroad: Reminiscences of the Busy Life of Chauncey C. Olin
Note that the Spencer Historical and Genealogical Society had a website at one time and provided newsletters, etc., but it looks as if that has been discontinued. However, they do have a Facebook group if you are interested.
Excellent family tree website with Olin information: https://fausoldfamilytree.com
Last Updated on August 24, 2023 by rootie