Russell C. Bailey was born January 26, 1879 in Sparta, Monroe County, Wisconsin to Charles and Rebecca (Hall) Bailey.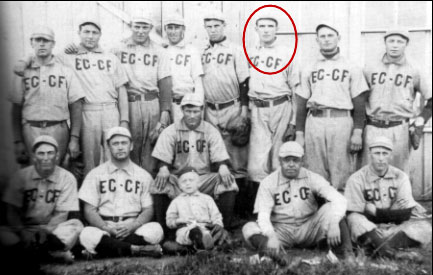 Mr. Bailey's career as a baseball player and manager began in 1905, when he played with Eau Claire in the Illinois-Wisconsin league. He retired from active participation in the game in 1912, when he was manager and played with the Eau Claire team in the Wisconsin-Minnesota league.
The league folded up in mid-season and Bailey finished the season and his playing career with Wausau.
Mr. Bailey, a Spanish American War veteran resided at 1120 Graham Ave. He is survived by his wife, one daughter, Mrs. Arthur Garrett, Chicago; a brother, Jack of Chicago; a sister, Mrs. Lyda Nelson, Milwaukee, and two granddaughters. Funeral arrangements are being made by Stokes and Sons.
In 1949 Mr. Bailey was named commissioner of the 11th district of the Wisconsin Semi-Pro baseball congress. As commissioner, he had charge of the tournament in which the top teams of the six-county area competed for berths in the state tournament at Milwaukee.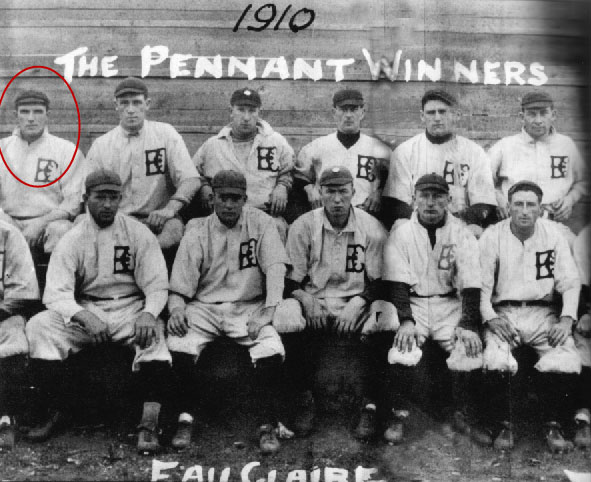 Mr. Bailey starred as an outfielder and hitter for Eau Claire teams, and was a member of the pennant-winning team in the Wisconsin-Minnesota league in 1910. After leading the league as a hitter in 1911, he was drafted by Milwaukee of the American Association, but his career was cut short by a broken ankle suffered in a game with Minneapolis.
Mr. Bailey finished his career with Wausau by hitting 16 home runs in the two months he played for the team, unusual in the days of the old dead ball.
Two former big league starts received their start under Mr. Bailey's managership, Hap Feisch, who starred with the Chicago White Sox, as an outfielder, and Burleigh Grimes, famous spitball pitcher.
Eau Claire Hall of Fame

I was contacted several years ago by a gentleman in Eau Claire who was trying to get Russ into the Eau Claire Baseball Hall of Fame. Below is the information from the nomination form.

Connection to Eau Claire baseball

Amateur ball player beginning in 1901 (possibly earlier) for a team in Shawtown.
Continued as a star amateur until 1906, when he was an easy choice to be the center fielder for the Eau Claire-Chippewa Falls professional team.
Played nearly his entire professional career in Eau Claire.
He was out of pro ball in 1908 when Eau Claire didn't have a team, but he stayed in Eau Claire to play for a local team.
Additionally, he played 31 games for Milwaukee in 1910 before injuring an ankle and finishing out the season in Eau Claire.
He also played half a season in Wausau.
Named player-manager of the professional team in 1912.
The team finished 25-16 before having to fold.
When club president Henry Davis unexpectedly resigned in April, 1912, Bailey was also given that title.
That season, he secured a player for Eau Claire from tiny Clear Lake, WI—Burleigh Grimes.
Also gave future major leaguer Happy Feisch a shot at making the club, but Grimes beat him out for the last spot on the roster.
Had the unenviable task of pulling the plug on professional baseball in Eau Claire due to poor fan support.
Played for Wausau following the demise of the Eau Claire club and apparently did very well (though likely not as well as his obituary reads).
Was a clothing store owner that played in small industrial leagues in Eau Claire.
Cursory search shows a box score in 1919 (Bailey was 40 at the time) where he dominated on the mound.
Art Roach's father recalled seeing Bailey play very well at Chappell Field—Bailey would be in his 40's or 50's by this time.
In 1949, he was named Commissioner of the 11th District of the Wisconsin Semi-Pro Baseball Congress. He organized a tournament in which the top teams of the six-county area competed for a chance at the state tournament in Milwaukee.
Art recalls Russ working at Carson Park as a ticket taker in his later years. This would put Bailey as likely the only person to have connections to the last three major baseball parks in the City of Eau Claire: Driving Park, Chappell Field, and Carson Park.

Professional statistics:

(Note: SLG percentage assumes all hits in 1907 were singles.)

A whiz in the outfield, he could also handle the bat very well. He had nearly 1,900 professional at bats and hit .274 for his career. His 1907 extra base hit statistics are missing, but if you were to remove the season completely his career slugging percentage would be close to .400 (if you consider all of his 76 hits in 1907 to be singles, his slugging was still .358). He was having his best season in 1912 but due to financial constraints he elected to stay behind on a few road trips to save expenses.

Biography
Russ Bailey was born in Sparta in 1879 but moved to Eau Claire at an early age. A Corporal in the Spanish American War at the tender age of 19, Bailey's first games in Eau Claire can be traced in box scores of the Eau Claire Leader beginning three years later as an amateur in 1901.

He continued to play for Eau Claire teams until 1906, when he was considered a no-brainer choice to be on the first professional baseball club in Eau Claire since 1887.

He continued to play professionally for Eau Claire through 1912, with the only interruptions coming in 1908 (when the city didn't have a pro team) and a brief, 31-game call up to Milwaukee in 1910.

In 1912, he was not only named player-manager of the club (he secured a young man from Western Wisconsin named Burleigh Grimes to play for the team), but he also was given the unenviable task of being team president. He was so well liked, the directors reasoned, that he would be able to easily raise much-needed cash for the team.

Bailey did what he could, but just couldn't make a go of it. After a scant 177 spectators watched him hit two triples on a glorious Sunday afternoon at the Driving Park, Bailey had to make the gut-wrenching decision to throw in the towel for professional baseball in Eau Claire.

The Leader [Eau Claire Leader] did not blame him. Instead, the following day it took the opportunity to bash the people of Eau Claire—the paper's own customers—for not supporting Bailey and the team. A professional game would not be played in Eau Claire for 21 years.

After Eau Claire folded, Bailey was a very popular "free agent", and though he was playing for Wausau, Superior claimed he had signed him to a contract as well. The National Association briefly suspended him until the contract situation was resolved, but it appears he finished the season in Wausau.
Bailey's obituary reads that he hit 16 home runs for Wausau in what amounted to half a season. That claim seems unlikely at best, but he probably still had some power and speed. After the 1912 season, he hung up his professional spikes but continued playing on an amateur level until at least 1919 (and likely longer), suiting up for the teams sponsored by his clothing stores. Art Roach's father said he recalled watching Bailey play at a high level at Chappell Field—which would put Bailey in at least his 40's at the time.

In 1949, Bailey was named Commissioner of the 11th District of the Wisconsin Semi-Pro Baseball Congress.

Art also related that Bailey was a ticket taker at Carson Park in his later years.
Read more about Russ Bailey>>>
Last Updated on March 7, 2021 by rootie