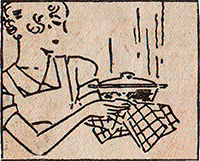 I don't know if I'm ready for fried spinach balls yet, but I am definitely going to try several of these recipes. I can't remember the last time I had lima beans, but it looks like it was a real staple back in the day. Limas Louisiana looks like a good one to try. Corn Oysters? Hmmm…
There are also articles on Rules for Cooking Green Vegetables and Ways of Serving Summer Vegetables.
Did you know that rice can be served as a vegetable?
Also in this category there were "Baked Beans Suggestions" and "Twelve Ways to Serve Potatoes". And if twelve ways aren't enough, here's Sixteen Ways to Serve Potatoes".
See also: Croquettes, Salads, and Ethnic recipes
Last Updated on September 11, 2022 by rootie