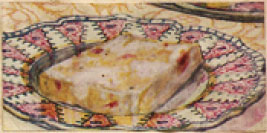 My favorite category! Desserts feature so strongly in our traditions and memories.
Okay, another interesting term that needs to be explained. What the heck is mange! A dessert that sounds like a mite doesn't sound very good. However, try to think French. This dessert is sweet and thick with cream and sugar.
I just recently added the pie section. I hope you will try a recipe or two out and let me know how it turned out.
Candies can be found on their own page since they aren't exactly dessert, right? Also, check out fruits, breads and nuts for more options.
Last Updated on September 11, 2022 by rootie