According to family oral history, somewhere in Scotland the family of Mary (Rose?) Glass lived in a big house at the top of the hill. They were more prosperous than the family of Samuel (or Robert?) Sharpe. Mary was a very beautiful girl and she and Sam fell in love and were married over the objections of her parents, who thought he was not good enough for her. Mary and Sam eventually crossed the Firth of Forth probably first to England and then to Ireland and Belfast where they settled. If they were on the Isle of Bute it is most likely that they crossed the Firth of Clyde.
Back in 2002, I received an interesting correspondence from a gentleman named Bill Glass who was living in Rothsay, Isle of Bute at the time. He stated that the Glass family home was in Bute until the Highland Clearances when Lord Bute managed to "steal" the land from them and banished them to what is now Northern Ireland. According to "A Farming History of Bute" the Glass family owned at that time most of the farms on what was called the "West Road." From then until 1975 no member of the Glass family resided on Bute until Bill said he and one other Glass clan member moved there. He said the tartan which the Glass family is entitled to wear is that of Stuart of Bute. He notes that the Crichton-Stuarts were Catholic and the Glass family was not. He also mentioned that his grandfather came from Bushmills in Northern Ireland and immigrated to Scotland.
I found a website that listed farmers in Bute and only found Archibald Glass in 1806 in Mid Ascog. The Highland Clearances started in 1750 and continued through the mid-1800's. Some other interesting websites are https://www.britannica.com/place/Argyll-and-Bute and https://electricscotland.com/webclans/dtog/glas2.htm.
There is not much else known about the family in Scotland or Ireland except that one of the daughters married a MacClarnen. The Glass and Sharpe families were Presbyterian in Ireland and the United States. It was said that there was always a "Robert" in the family. Aunt Cora Glass remembers that when she was a child she had often heard her parents talk of old Bob Sharpe. The name Robert has been passed down through current generations in my branch.
Samuel and Margaret raised a large family of 9 to 11 children. Among these children were Uncle Dennis Sharpe and Grandfather Samuel. Samuel took his mother's maiden name when he arrived in America. The two brothers, Dennis and Samuel, and their cousin Patrick Boyd came to America in 1829. It was said that they came in through Ellis Island but since it was not opened until 1892 that is impossible. Yet another problem with family oral history. Aunt Cora also said that all three, Samuel Glass, Dennis Sharpe and Patrick Boyd, lived near El Paso, Woodford, Illinois at one time.
Samuel (or Robert?) Sharpe was probably born about 1780 in Scotland and died in Belfast, Antrim, Ireland. His wife, Margaret Rose Glass was born November 10, 1782 in Scotland and died October 15, 1876 in El Paso, Woodford, Illinois. The 1855 New York State Census shows Margaret Sharp, age 70 living with George and Elizabeth McClarnen and listed as "mother". The 1860 United States Federal Census in Dix, Schuyler, New York, shows a Margaret Sharp aged 75 born in Ireland and a domestic in the household of George and Elizabeth McClernan. Also, by the Federal 1870 census (taken in June of 1870), George, Elizabeth, young Margaret, and Margaret Sharp are no longer in the household.
Samuel and Margaret's children:
Samuel Sharpe Glass

On April 22, 1809, Samuel was born to Sam and Mary in the shadow of the Bush Mills (Antrim, Ireland), a whiskey distillery, so apparently they lived very close to be in the "shadow".

After his arrival in 1829, Samuel found work on the Erie Canal, building and digging. Later, he was a lock tender at Mauch Chunk (now Jim Thorpe), Pennsylvania where he met and married Mary Youells/Yowells.

One evening as it was time for him to go back across the canal (I believe this was in Mauch Chunk), his little 3-year-old son Willie came running to meet him, across the top of the canal. The little boy fell into the canal and ruptured his spleen and died. After that, Mary refused to live there anymore and so the family moved to Illinois. There Grandfather Samuel "Pappy" bought a farm near Kappa, but north of the Machinaw River, where they lived in a log cabin.

Cora Glass says that her grandmother, Mary Yowles was Pennsylvania Dutch. However, if you look at the census at the bottom of this page, it shows Ben's mother as being from Prussia. It is more likely that she was Pennsylvania "Deutsch", a common mistake. Note that "Youells" is also an Irish name.Mary was born about 1825 (she was 35 in the 1860 census in Palestine, Woodford, Illinois) in Pennsylvania and died October 15, 1876 in El Paso, Illinois and is buried in Kappa. After Mary died, Samuel remarried to Mary Cleary Hurley, a widow.

---

Children of Samuel Glass and Mary Elizabeth Yowles

William (Willie) Glass born October 21, 1830 in Pennsylvania and died April 12, 1833 in Liverpool, Perry, Pennsylvania.

Margarette Glass born May 8, 1840 in New York and died July 1, 1931 in Chicago, Cook, Illinois. She married William Winklepeck. Their children: Satta, William, Ida, Cora, and Lottie.

Emma Glass was born about 1842 in New York. She married March 17, 1863 in McLean County, Illinois to Michael Long.

Jane Glass born about 1845 in New York, died young?

Susan Glass born about 1847 in New York, died young

Robert Glass born July 16, 1851 in Kickapoo, Peoria, Illinois and died January 6, 1935 in Limestone, Peoria, Illinois. He married July 4, 1891 in Panola to Missouri Slack Linder. They had the following children: Bina P., Myrtle, Baby, Charles, and Baby2.

Betsey (Elizabeth?) Glass born July 16, 1851 in Limestone, Peoria, Illinois.

Rebecca Glass married and died with several small children.

Samuel Robert Glass born about 1857 in Illinois and died in 1892. He married Elizabeth Turnell (1862-1959) on October 2, 1887 in Odessa, Nebraska where he had moved to farm and raise horses. They had 4 children:

Mary Elizabeth Glass born February 2, 1889 in Nebraska, died September 11, 1931. She married Sam Beavers, Jr. (1876-1959).
Nellie Charlotte Glass born September 12, 1890, died December 1975.
Edward Samuel Glass born March 16, 1892, died April 24, 1892.
Eric Robertson Glass born October 27, 1893 in Islington, London. (Not sure about this one as it is improbable that he was born in London)

Benjamin Metler Glass See more about Benjamin's family>>>

Sabina Glass was born about 1862. She married Pete McGowan on November 6, 1880 in Chicago, Cook, Illinois. Pete was born about 1859 (or 1848 if the grave information is correct). In their marriage record it shows her name as "Albine". After Pete died, (I believe his grave is located here) she married Johnny Ames of Chicago (a wealthy black sheep). (There is a Sabina or Bina Glass buried at the Kappa, Illinois, cemetery but it is not known if this is Benjamin's sister or Uncle Bob Glass' daughter.)

Children of Samuel Glass and Mary Cleary

Samuel Glass married second to Mary Cleary on August 08, 1869 in Bloomington, Illinois. She was born in 1834 in Ireland and died February 28, 1914 in Gridley, McLean, Illinois. She was previously married to John Hurley and had 3 children.

Children of Samuel Glass and Mary Cleary are:

Mary Jane Glass, b. May 15, 1870, Kappa, IL, d. December 08, 1915, Bloomington, Illinois. She married John C. McGraw who was born in 1864. They had the following children:

Bessie McGraw born 1894
Mary E. McGraw born 1895
Anna R. McGraw born 1898
Theresa N. McGraw born 1901
Herrneon J. McGraw born 1908

Anna May Glass, b. May 15, 1870 in Kappa, Woodford, Illinois and died March 23, 1948, Crown Point, Indiana. She married Thomas O. Davis (1870-1949) in Williams, Iowa in 1893. He was from England and immigrated in 1880. They lived in Iowa, Illinois, and finally in Lowell, Indiana. and they had the following children:

Edward T. Davis born October 16, 1893 in Williams, Hamilton, Iowa.
John Charles Davis born August 4, 1897 in Iowa and died November 26, 1952 in Lowell, Lake, Indiana.
Hyacinth Mary Davis born August 1898 in Illinois.
William George Davis born August 1904 in Chicago, Cook, Illinois.
Margaret L. Davis born August 10, 1904 and died October 9, 1993 in Crown Point, Lake, IN. She married Edwards S. Schmal.
Thomas Glass Davis born August 10, 1904 in Chicago, Cook, Illinois.
Patricia T. Davis born March 17, 1907 in El Paso, Woodford, Illinois
Anna M. Davis born August 29, 1909
Agnes Ailene Davis born March 23, 1912

Catherine Teresa Glass was born November 22, 1872, Kappa, Illinois, d. April 10, 1915, Gridley, Illinois, married Timothy S. Kearney (1865-1915) in 1896. Their children:

Daniel C. Kearney born 1897
Leo P. Kearney born 1901
Mary C. Kearney born 1903

Cora and Edna Glass Family Memories

Mary Yowles/Youells Glass was very thrifty. They raised sheep, geese, ducks and chickens along with their garden. The women all wore long dresses, and Mary wore a belt with a bag attached to each side. When she was out, she would pick the sheep wool off the bushes, weeds, and fences, and put it in one bag. Then she would pick up the goose feathers and put them in the other. She spun the wool for stockings, mittens, and caps, and the feathers were used for pillows, quilts, and comforters. In those days, fruit was mostly dried for winter.

In the spring after the crops were in, Samuel hunted work, as there was very little cash. He worked helping build the railroad in the West, and was there when they drove the golden spike. Most men who did not have much land, had to work away from home, and so the mothers were left alone for many months with the family. His older brothers and sisters helped them with the plowing, and the rest was done by hand, the hoeing, and weeding. All the children had to help. The boys all slept in the loft of their cabin under a bear skin. The snow would sift in through the chinks in the cabin roof during the winter, and they would wake up covered with snow.

One cold, rainy night when Benjamin was about 5 years old (1866), their mother went out to hunt for a cow with an new calf, that did not come home. Mary could not find the cow and she tramped over the hills through the thickets. When she returned she was soaked and chilled and developed a cold. She lay in bed with her knees drawn up for several months before she died at the age of 40. She was buried in the Kappa Cemetery. (Was this Ann?)

Samuel Glass was left with 11 children. Soon after he married a widow named Rose Hurley with about the same number of children. Although Rose Hurley was Irish Catholic and Samuel was a very strong Presbyterian and also an Orangeman all his life, he needed someone to help with the family. Benjamin being very young felt his step-mother was not very good to him. She would not let him have any sugar, and would put it up high in the cupboard. (Oh my!)

In his later years, Samuel lived with his son Benjamin. Benjamin, and his sons always called Samuel "Pappy", instead of Dad or Grandpa. Samuel Glass owned several different farms through the years and would buy and sell at a profit. He owned land in Marshall County and also near Kappa in Woodford County. At one time they lived south of the Machinaw River, near Kappa when Samuel's first wife Mary died.

---

Samuel Glass died in 1892 and the following is an obituary copied from the El Paso Journal, Saturday, January 23, 1892. By Curtis and Evans:

The death of Samuel Glass occurred Sunday, January 17, 1892 at the age of 85 years. He was one of the oldest residents of this county, having come here from Pennsylvania in 1854. He was an Irishman by birth, but had lived in the United States since boyhood. He had lived at Kappa for over 20 years and leave 3 daughters there now. One son, Robert, lives at Colfax and another, Benjamin at Panola. The interment took place at Kappa on Tuesday.

The following is taken from courthouse records:

Samuel Glass farm Book E – Page 362 – Section 20-40 acres — southwest corner El Paso Township
Dennis Sharpe

Dennis was born September 16, 1811 in County Antrim, Ireland and died February 16, 1901 in El Paso, Woodford, Illinois.

Dennis was married twice. First to Lillie Boyle who was born May 12, 1807 in Ireland and died December 16, 1868 (burial). Second marriage was to Mary Sharpe was born July 10, 1831 and died January 9, 1878.

Children of Dennis and Lillie:

Samuel Sharpe was born November 4, 1832 in Ireland and and died March 6, 1901 in LaHarpe, Hancock, Illinois, and married 1858 to Jane Ballenger. She was born December 25, 1835 in Ireland and died January 26, 1913 in LaHarpe, Hancock, Illinois. Samuel and Jane's children:

Mary Sharpe (1860-?)
Elizabeth Jane Sharpe (1860-1941) married in 1885 to Robert R. Lionberger.
James William Sharpe "Willie" (1864-1918) married in 1887 to Nora B. Ward and married in 1896 to Clara Marie Frank.
Dennis Kaiser Sharpe "Dinnie" (1866-1952)
Julia Sharpe (1868-?) also known as Lily.
Harriette Mae Sharpe "Hattie" (1870-1944) married 1892 to Charles G. Chapin.
Samuel Andrew Sharpe "Sammie" (1872-1938) married in 1902 to Eva May Whittemore/Whitmore.
Robert J. Sharpe (1874-?)
Franklin Joseph Sharpe "Frank" (1876-1943)
Blanche A. Sharpe (1881-1946)

Jane Sharpe was born November 2, 1840 in Ireland and died December 27, 1896 in Wayne County, Iowa, and married Thomas Enright and had the following children:

Jane Enright (1870-1927)
Nicholas Enright (1874-1904)
Ella Enright (1876-1943)
Hannah Agnes Enright (1882-1970)

Robert Sharpe was born April 21, 1842 in Ireland and died January 2, 1886 buried at El Paso cemetery, and married Emeline (Taylor?) and had the following children:

James Sharpe (1871-?)
Lillie Sharpe (1873-?)
Charles Sharpe (1875-?)
Dennis Sharpe was born July 5, 1877 and died March 3, 1882 buried at El Paso cemetery

James Sharpe was born about 1845 in Ireland

Margaret Eliza Sharpe was born about 1848 and married David Leahy.

Harriet Orphelia Sharpe was born (1853-1936)

John W. Sharpe was born March 17, 1855 in Panola, Woodford, Illinois and died July 28, 1905 in Panola, Illinois and married April 4, 1876 to Margaret (Maggie) Barbara M. McCumber was born February 26, 1859 and died April 6, 1921. Their children:

Lillie M. Sharpe was born March 11, 1877 and married December 25, 1894 in Hancock, Illinois to Stephen Clark Fordham and died November 13, 1899 in Missouri
Vince (Vinnie) Sharpe was born February 1, 1879 and died February 4, 1879
Silia Sharpe was born about December 1879
Laura Sharpe was born March 3, 1880 and married Charles E. Evans born May 1876
Simon Sharpe was born about July 1881
Bert (Robert?) Sharpe was born July 19, 1883
Jesse Sharpe was born about November 1884
William Dennis Sharpe was born August 31, 1885 in Panola, Illinois and died August 16, 1922
Frank H. Sharpe was born October 6, 1887
Ethel Mary Sharpe was born May 14, 1890 and died April 23, 1938. She married Sherman Albert Dodson on May 30, 1886. Their children: Kenneth S. Dodson was born July 14, 1908 and died August 14, 1978; Berlan Dodson was born October 13, 1913 and died about February 1958; and Clell Albert Dodson was born June 28, 1915 and died March 24, 1980 and married Nettie Mae Myers born August 10, 1924 and died March 7, 1990.
Alice Sharpe was born October 29, 1894
Bernice Sharpe was born October 29, 1894 and married Merritt Bailey
Leah Sharpe was born about March 1896
Harry Earl Sharpe died February 13, 1896
Alma Grace Sharpe was born August 27, 1897 and married December 18, 1917 in Creston, Iowa to Roy Black
Cecil S. Sharpe was born May 11, 1901 and married Mary. She was born July 10, 1831 and died January 9, 1878

Mary Sharpe (possibly born 1831 and died 1878 and buried at El Paso, Woodford, Illinois.

William Sharpe born in 1834
Elizabeth Sharpe

Elizabeth was born August 29, 1814 in Ireland, died in 1908 in Schuyler County, New York. She married April 1, 1843 in Culfeightrin, County Antrim, Ireland to George McClernan. He was born in 1802 in Ireland and died in 1865. I believe George may have been buried in the Oddfellows Cemetery in Philadelphia but was moved to New York when the former cemetery was removed. Their children:

Dan McClernan born about 1839 in Ireland
RoseAnna McClernan was born in Ireland about 1844 and died May 30, 1921 in Montour, Schuyler, New York. Never married.
John McClernan was born in Ireland in August of 1847 or 1850 and died 1936.
Margaret McClernan was born in Ireland about 1850
Mary J. McClernan was born on the ocean—which dates their arrival time to about 1854
Catharine (Kate) McClernan was born in New York about 1859
---
Patrick Boyd—Looking for any information on this cousin.
---
From courthouse records: Samuel Glass farm Book E-Page 362-Section 20: 40 acres southwest corner El Paso Township
Samuel's mother, Margaret (Maggie) Glass Sharpe, born November 10, 1782, died September 15, 1876, buried in Sharp Lot, El Paso, Illinois. Old notes gave her death about 1880) and said she was buried at Kappa, however Cora Glass found her tombstone in the Sharpe lot in the El Paso cemetery. The following is taken from that:
Margaret (Maggie) Glass Sharpe born Nov. 10, 1782 died Sept. 15, 1876.
Interestingly, in the beginning of this story we are told that her name is Mary Rose Glass, yet her headstone says Margaret.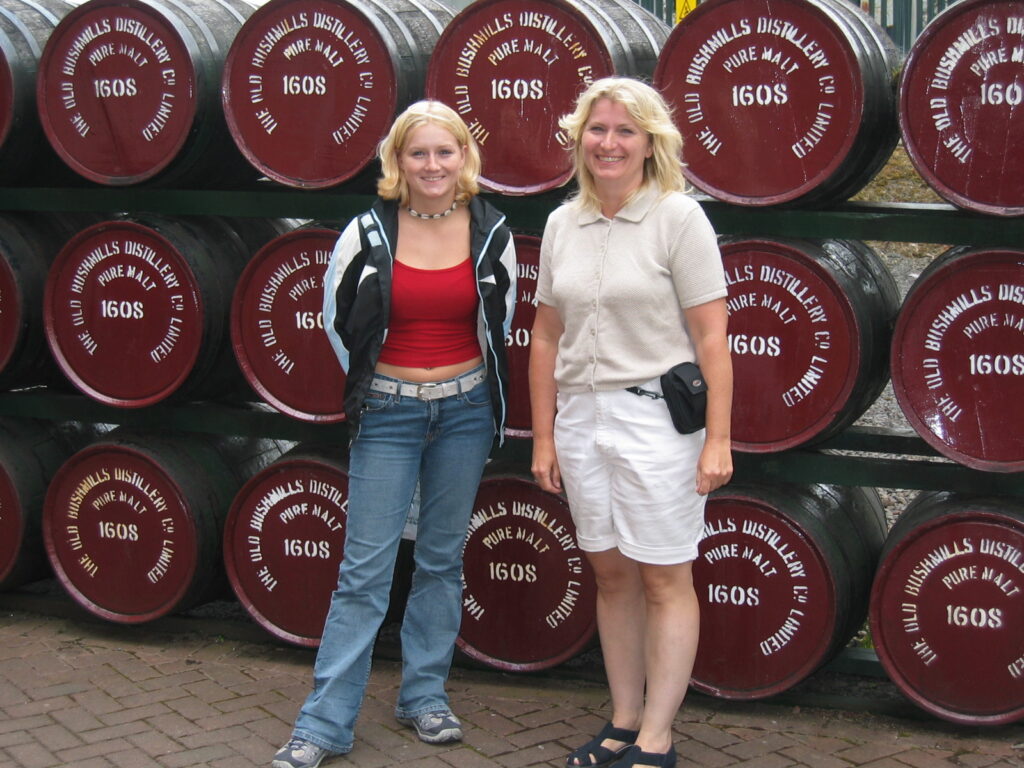 Me and my daughter visiting Bushmills, Ireland and the distillery in 2003.
Last Updated on November 20, 2023 by rootie